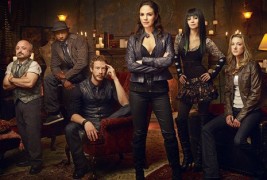 Regular listeners of our podcasts know that I attend Dragon Con in Atlanta, Georgia over Labor Day weekend every year. This year the convention runs from August 30th through September 2nd. Dragon Con is one of the largest fan run conventions in the world with over 50,000 attendees and normally close to 400 celebrity guests.
There will be several Lost Girl related events happening at the convention this year so I wanted to put all of them together in a list for those Lost Girl fans who are planning on attending.
Please keep in mind that Dragon Con events and the guest list of which celebrities are coming to the con are very subject to change. It's the nature of the this convention. Therefore, the details listed below are very subject to change between now and the start of the convention on August 30th.
Most of the Lost Girl activities will take place as part of the Urban Fantasy track. I highly recommend following their Facebook page and their track page on the Dragon Con website. The Urban Fantasy track is just one of the fan programming tracks at the convention. There are more than 35 different programming tracks at the convention so there are LOTS of great things always going on at the convention. You can see a listing of all the fan programming tracks here.
The details below were last reviewed for accuracy on July 26th.
Friday August 30th
1pm Lost Girl fan meet and greet
This event is an informal opportunity for Lost Girl fans to come and meet other fans and to talk about the show in a casual setting. Several Lost Girl cosplayers will also in attendance for photo ops with everyone. We have a meetup event listed on Facebook here and you can find the Lost Girl cosplayers Facebook discussion group here.
4pm It's a Fae, Fae World: A Lost Girl Fan Panel
This moderated fan discussion panel will cover all kinds of topics related to the show and the characters.
The cast members listed below are scheduled to attend the convention and will be available to sign autographs and do photo ops throughout the convention.
Paul Amos
K.C. Collins
Kris Holden-Ried
Zoie Palmer
Those cast members will also be attending several Question and Answer panels as well. Those panels are scheduled to take place…
Saturday August 31st
5:30pm Lost Girl cast members Q&A
Sunday September 1st
11:30am Lost Girl cast members Q&A
Monday September 2nd
11:30am Lost Girl cast members Q&A
More details about where these events will take place will be coming in the next few weeks leading up to the convention.
If you are new to Dragon Con I've created a brief (9 minute) audio introduction to the convention and include several very helpful links for new con attendees. You can find that podcast and the helpful links here…