Listeners of our Tuning in to SciFi TV and Saturday B Movie Reel podcasts know that every year I attend Dragon Con. Back in 2011 we started doing our annual "Scifi Drive-In Theater Heckle Along" movie screenings as part of the American Sci-fi and Fantasy Media track.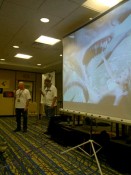 That first year we screened Sharktopus and Joe Crowe, from RevolutionSF.com, and I did some MST3K (Mystery Science Theater 3000) inspired riffing during the movie. In 2012 we screened Mega Python vs Gatoroid, in 2013 it was Super Shark and last year we showed Mega Piranha.
What do all these films have in common? They are a blast to watch with a crowd of fans!
We draw some great all ages crowds where folks get to have a lot of fun by cheering on the heroes/creatures and booing the villains! You can view several photos from our 2012 event here and from our 2013 event here. A BIG thank you to Jenn Geoppinger for sharing these photos.
For 2015 we have another fun movie planned as we'll be screening and riffing Starcrash (1979). Here's the description…
Prepare yourself for a vintage science fiction adventure film you will never forget, as the sultry Stella Star (Caroline Munro) and her alien sidekick Akton (Marjoe Gortner) team up with robot lawman Elle (Judd Hamilton) on a high adventure to save the universe. It is a cosmic mash-up of daring escapes, wild special effects, beautiful women in sexy space bikinis and nonstop action on a dozen alien worlds. Roger Corman presents the ultimate European space opera. The film also stars Christopher Plummer as the Emperor of the Galaxy and David Hasselhoff as Prince Simon.
So make your plans now to join us at Dragon Con in Atlanta, GA over Labor Day weekend. This event will take place on Friday evening September 4, 2015. Exact time and location will be announced in the coming weeks.