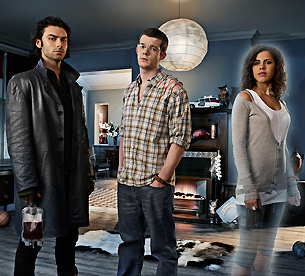 Being Human airs on BBCAmerica on Saturday evenings. If you missed Episode 1, BBCAmerica will re-run it on 8/1 at 8pm EST just before Episode 2 airs at 9pm EST.
*** Spoiler Warning***
This review of Episode 1 of Being Human contains spoilers for Episode 1 so proceed if you already know or want to know what happened.
Meet the Neighbors – By Wendy Hembrock
A ghost, a werewolf and a vampire get an apartment together in London… This could be the setup for a British spinoff of True Blood. While the premise of Being Human involves three characters who are unnatural or supernatural, this show explores the human condition in a mix of humour, horror, and heart.