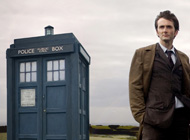 Let's review why David Tennant is one of the best Doctors in a long line of excellent Doctors.
Russell T. Davies, the producer of the new Doctor Who series breaks it down for us:

Follow the break to hear David Tenant discuss The Doctor in his own words.


The Doctor's an explorer and adventurer just like we want be! And he has one of coolest ways to travel around – the TARDIS! Nothing beats a classic:
Remember to set your DVRs and TiVos for repeated enjoyment of Doctor Who: The Waters of Mars when it airs on BBC America on Saturday December 19th at 9pm EST/PST.
And check back with Tuning in to Sci Fi TV to hear Brent, Kevin and Wendy discussing the latest adventures of The Doctor. You can join in the conversation now with the discussions in our forums.