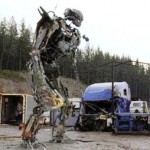 Kevin Bachelder is flying solo this time for a spoiler filled discussion of Syfy's original Saturday B-move entitled Iron Invader.
You can listen to the episode now by using the 'Play' button below or follow the break for more detailed show notes.
Sites and items mentioned on this episode:
Mega Python vs. Gatoroid will be shown again on March 15th at 9pm.
Perry Horton's Mega-Marathon Blogfest!
For additional information about this movie:
Syfy.com Original Movie page
IMDB page
Overall Rating:
Kevin – lower end of "Watch It Soon"
Ratings:
Feel free to post your ratings as a comment below or join in on the discussion on our forum.
Podcast: Play in new window | Download
Subscribe: Google Podcasts | RSS